Cosette Justo Valdés,
ARTISTIC DIRECTOR, VANCOUVER ISLAND SYMPHONY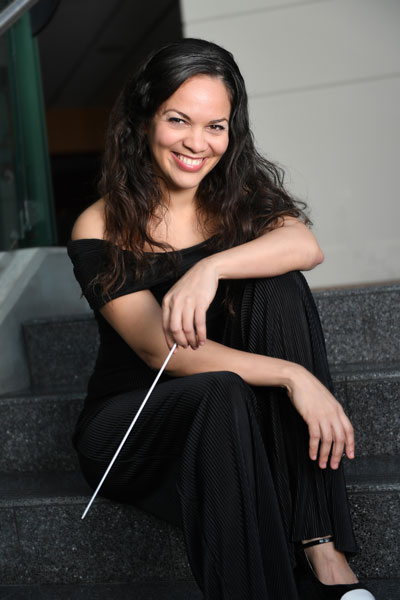 With the Edmonton Symphony Orchestra, Cosette is equally at ease leading programs from the Masters, Pops, or Kids series, garnering praise from critics, audience, and musicians alike for her "vivacity," and "inspiring, precise, fiery" conducting (Edmonton Journal). Her position with the orchestra since 2019 as Assistant Conductor and since March 2022 as Resident Conductor, includes the role of Community Ambassador, through which she has developed an exceptionally warm and rewarding relationship with orchestra patrons as well as the city's arts community. Cosette is also the Artistic Director of the Youth Orchestra of Northern Alberta, the ESO's Sistema-based program that provides free music education to some 200 children from Edmonton's priority neighborhoods and surrounding First Nations
With her "incisive presence on the podium," "emotive in her conducting without being in any sense showy" (Edmonton Journal), Cuban-born and raised conductor Cosette Justo Valdés has garnered acclaim on both sides of the Atlantic and is a rising star on the world's concert stage. She is presently Resident Conductor of the Edmonton Symphony Orchestra (Canada) where she has won the hearts of musicians and audience alike. Recent highlights include a "mind-blowing" (Ottawa Citizen) collaboration with Esperanza Spalding and the National Arts Centre Orchestra in Ottawa, and a celebrated Così fan tutte with the Edmonton Opera, conducted from the harpsichord.
Cosette maintains strong ties to her native Cuba, where she is celebrated as Honorary Director of the prestigious Orquesta Sinfónica de Oriente in Santiago, Cuba's musical heartland, which she led for 9 years. During that time, seconded by an administrator and a librarian, she single-handedly managed and directed the 80-musician ensemble, developing an extensive repertoire of classical and contemporary music, jazz and pop, while championing both new and traditional Cuban music. A frequent guest conductor of the Orquesta Nacional de Cuba in La Habana, she premiered works by Cuba's musical luminaries including Leo Brouwer, Alfredo Diez Nieto, Roberto Valera, and many more.