The Pictures Project
Pictures at an Exhibition is a suite of 10 pieces composed for piano by Modest Mussorgsky in 1874. Inspired by the works of his late artist friend Viktor Hartmann, Mussorgsky wrote this music after touring Hartmann's posthumous exhibition, and composed a piece of music for each piece of art.
The Vancouver Island Symphony's Pictures Project is a multi-faceted project that showcases the music of Pictures at an Exhibition arranged for the VIS by Canadian composer Jason Nett. The Pictures Project includes these exciting components:
Live in-Theatre Education Shows

at The Port Theatre in April 2022 and Education shows for Students in Grades 4, 5 & 6 in the fall 2022 and spring 2023.

A Digital Education Series

showcasing our musicians, their instruments and the orchestra performing together. This Series will be available anywhere in the world for schools or individuals to use to learn about the instruments and workings of the orchestra.

A Documentary Film

about the Vancouver Island Symphony, by filmmaker, John Bolton of Opus 59 Films.

A Visual Art Exhibit

featuring Vancouver Island Artists

The Pictures at an Exhibition show

will tour to smaller communities beyond our region in 2022 to 2025.
We asked Island-based visual artists to listen to Mussorgsky's music and create art inspired by the music. Congratulations to our ten winners whose artwork is on display in the Port Theatre lobby and on stage for the Pictures at an Exhibition performance.
---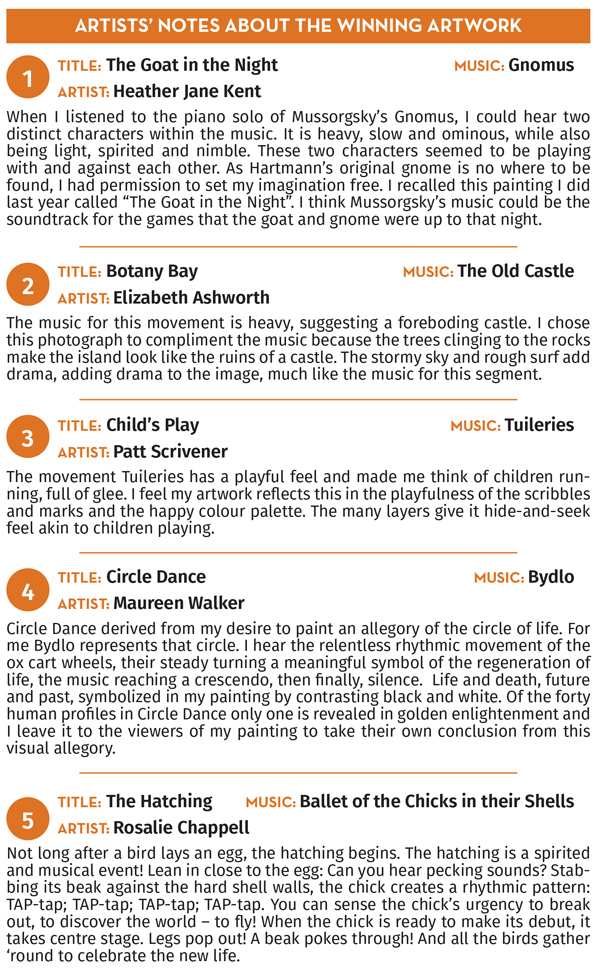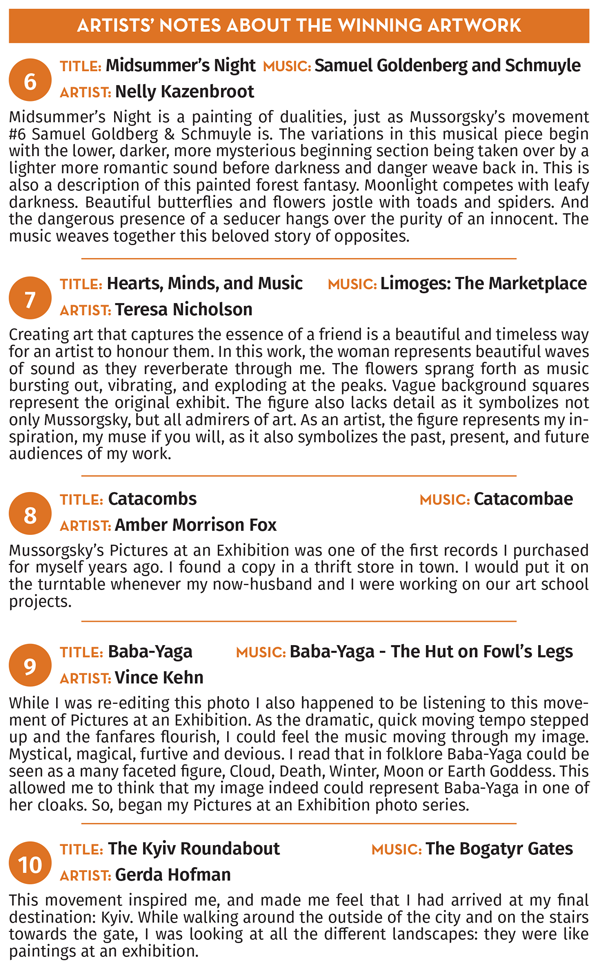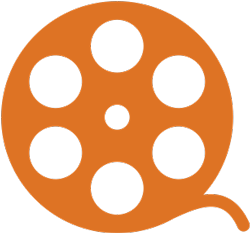 The Pictures Project has been a collaborative creation using music, film and visual art to share our version of Pictures at An Exhibition. Last November, the VIS Pictures at an Exhibition Film was shot here in The Port Theatre by Opus 59 Films. It will be available for you to view in May online. In addition, The VIS Pictures Project Education Series (12 videos of musicians and the film performance of Pictures at An Exhibition) will be available online for anyone to use in schools or for their own knowledge and enjoyment around the globe.
Mark Beaty, Manager, The Pictures Project   |    Rebecca Woytiuk, Visual Arts Coordinator, The Pictures Project
Support The Pictures Project
FUND our Education Programs to help us build the symphony audiences of the future.
BUILD a virtual music education package that can go to schools anywhere in the world.
INVEST in the future of the VIS.
Supporters of The Pictures Project to date